Real City Medellin Walking Tour is no joke. It's four hours long, covers a LOT of history and geography of Medellin. We're all. about. walking tours, but I had to mentally prepare myself for a four hour tour. in the rain. in Medellin. Luckily, Pablo, our guide was pretty great and it was easy to forget how long the tour was because his explanations of the past and how it has led to the present in Medellin (and Colombia) were fascinating. Sometimes a bit hard to follow, but I think that's because I get caught up on details when normal people can get the gist through a broader explanation. The group was a little big (20+) but Pablo still managed to make sure everyone could hear and often talked to different people in between stops. This is something I always appreciate when we're on a walking tour.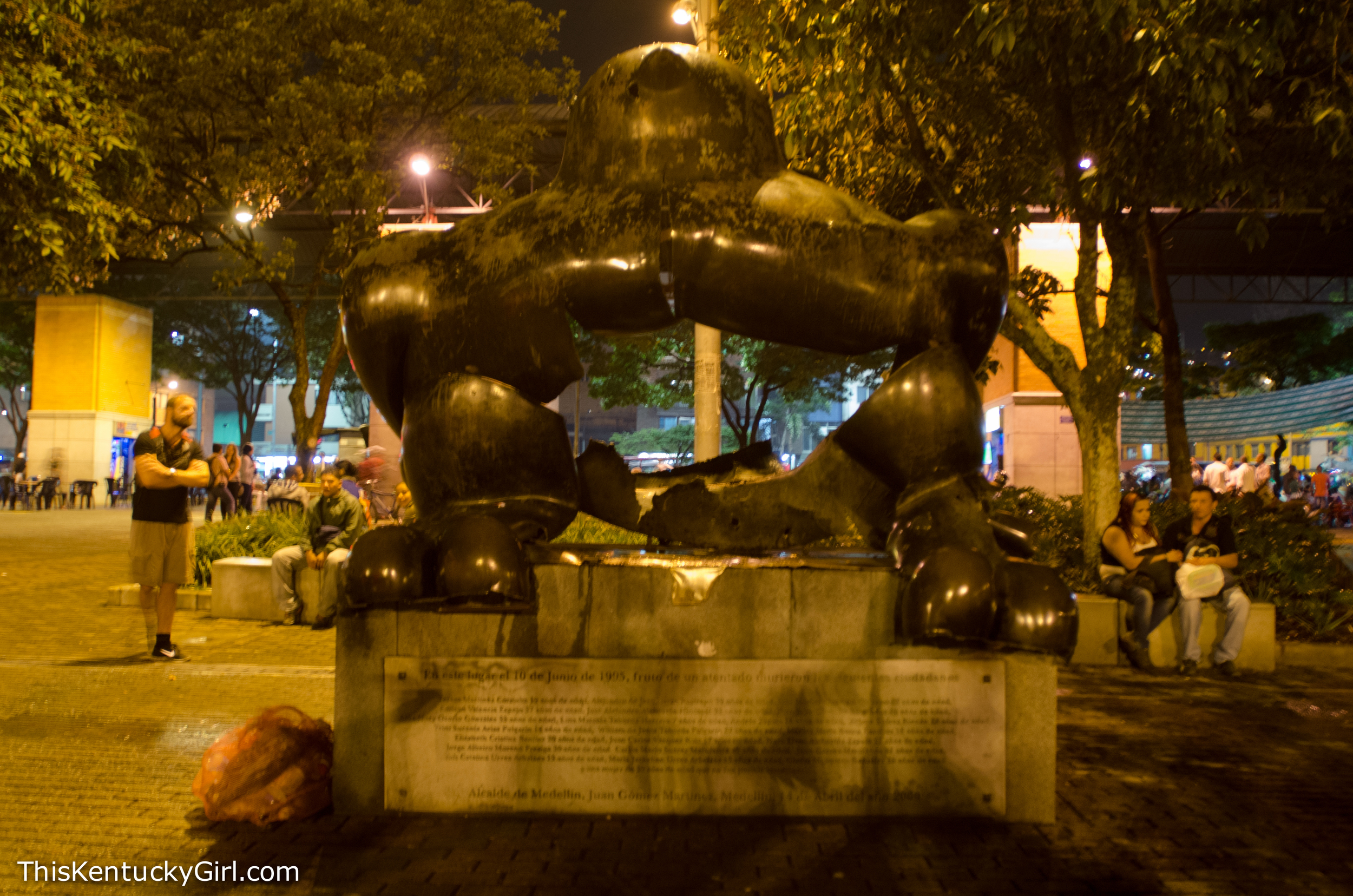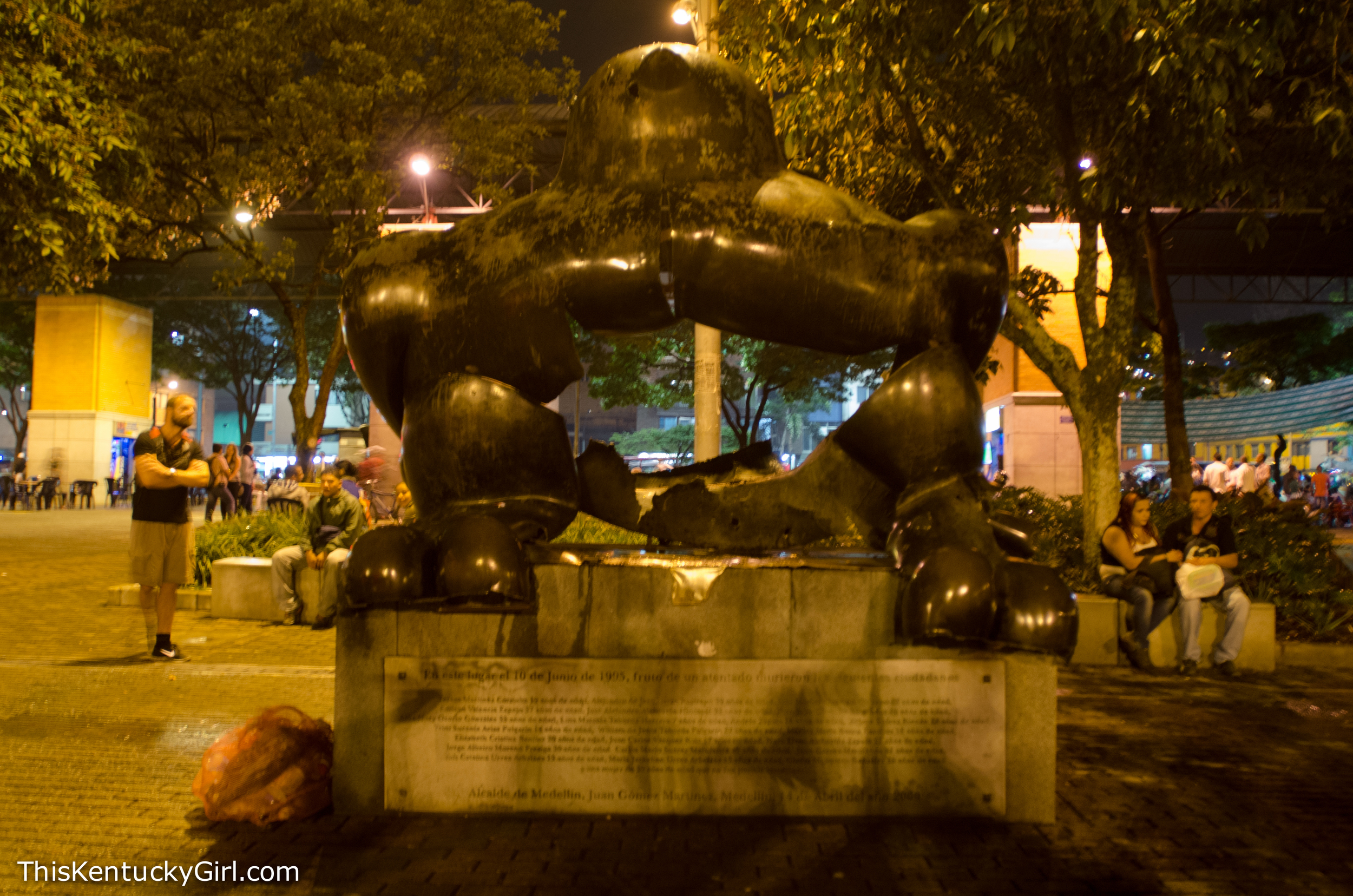 While we did walk a lot downtown, we also stopped quite often for Pablo to explain different things relating specifically to Medellin or more broadly to Colombia. When I was in college, my friends and I took a "Theater in Chicago" course where every Thursday night we would go to see a different play. It was pretty great. One of the plays we saw was a one man show that chronicled a road trip around America after 9-11. It was fabulous. I mention this now because the way Pablo talked about life in Medellin (and Colombia) reminded me of that one man show. While I loved the tour, I almost wanted to suggest Pablo turn the tour itself into his own one-man show.
It was often hard to photograph things on the tour because of the rain. We weren't often inside, except when we walked through this old government building that has since been turned into a market. It reminded me of Dongdaemoon in Seoul. Fake Nikes, watches, sunglasses, whatever you were in the market for. It wasn't only on sale inside this beautiful building- but the street outside was overtaken by vendors as well. I had to laugh when Pablo told us to be on the lookout for the ridiculously large busted mannequins. Perhaps it was only the day before my jaw dropped seeing one. Unfortunately, we didn't see any inside the building, so I wasn't able to take a picture and share with you!
This church is right down the street from Plaza Botero and the art museum we visited just the day before. Pablo didn't hold back on the tour. He didn't hide the less pretty parts of Medellin from us. at. all. He told us to gather close to him and then pointed out all of the girls 'working' outside of the church. Most congregated near some public phone booths. He explained that because of Catholicism's heavy influence in all of Colombia, men visit the church after an encounter with a girl, and will believe that they have repented for their sins, therefore they have a clean slate after. We all chuckled, and then ducked inside the church to see what it looked like on the inside.
Quite a ways away, we visited this huge church and surrounding square. Pablo warned us not to come to this square alone, and not to wander down any of the surrounding streets and alleyways. Lots of drugs are used around this church. I'm certainly not surprised by the prostitution or drug use, but I have to admit I was somewhat amazed at how these activities seemed to always be within a few steps of a church.
We ended our tour in another square that used to be a marketplace. That is, until a bomb went off at the base of this Botero sculpture. Medellin used to be one of (if not the most) the most dangerous cities in the world. It was shocking to hear about how many were killed on a daily basis. Right now, there is more crime in Washington DC than there is in Medellin.