I woke up with another round of stomach issues. This might be the new normal for the next month in India. I tried to rally (and for the most part did a rather ok job of it) and we walked around to the parts of Bhaktapur we didn't see the afternoon and night before. Then, we caught a taxi to Nagarkot for a Mount Everest sunset view.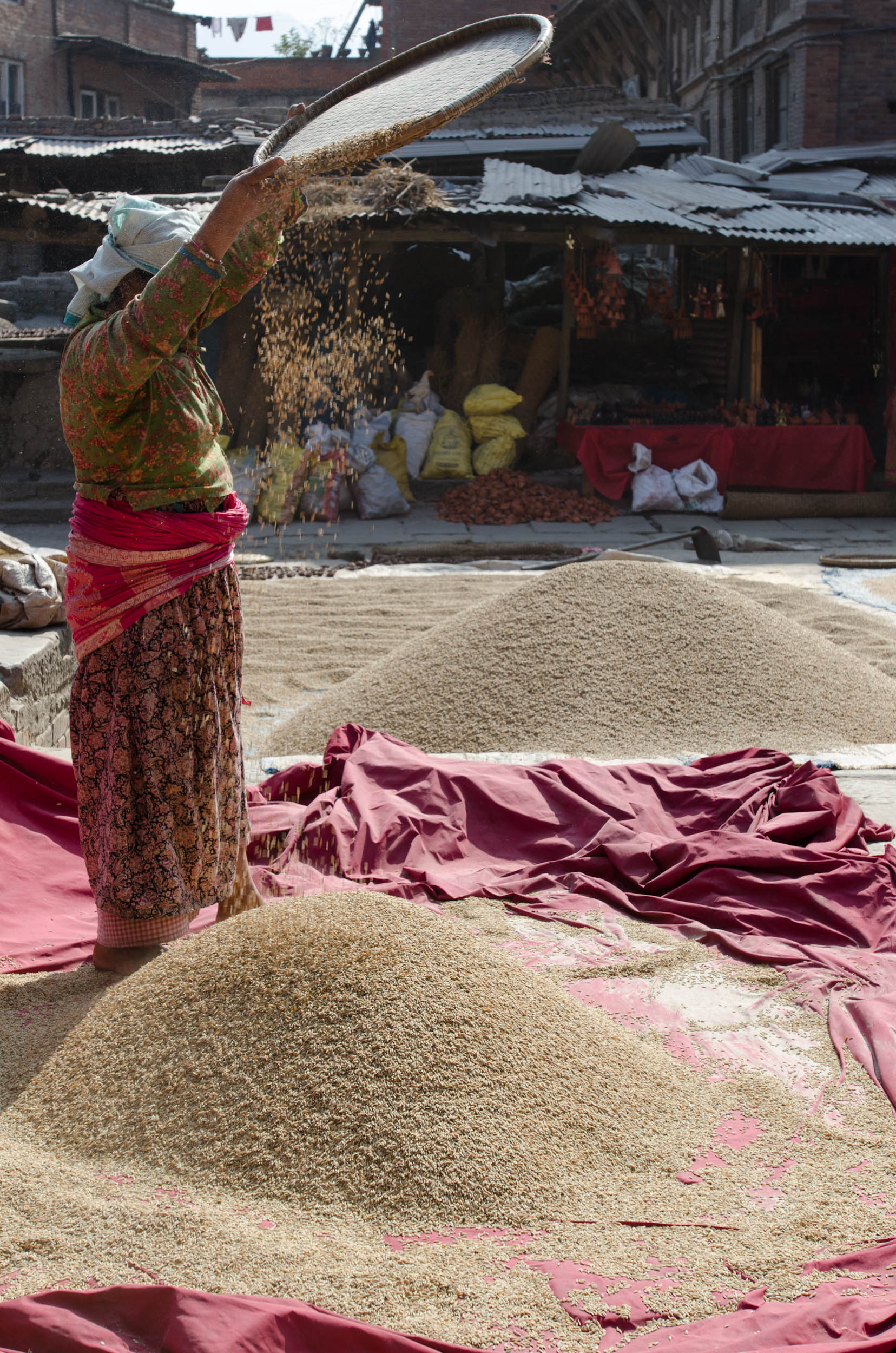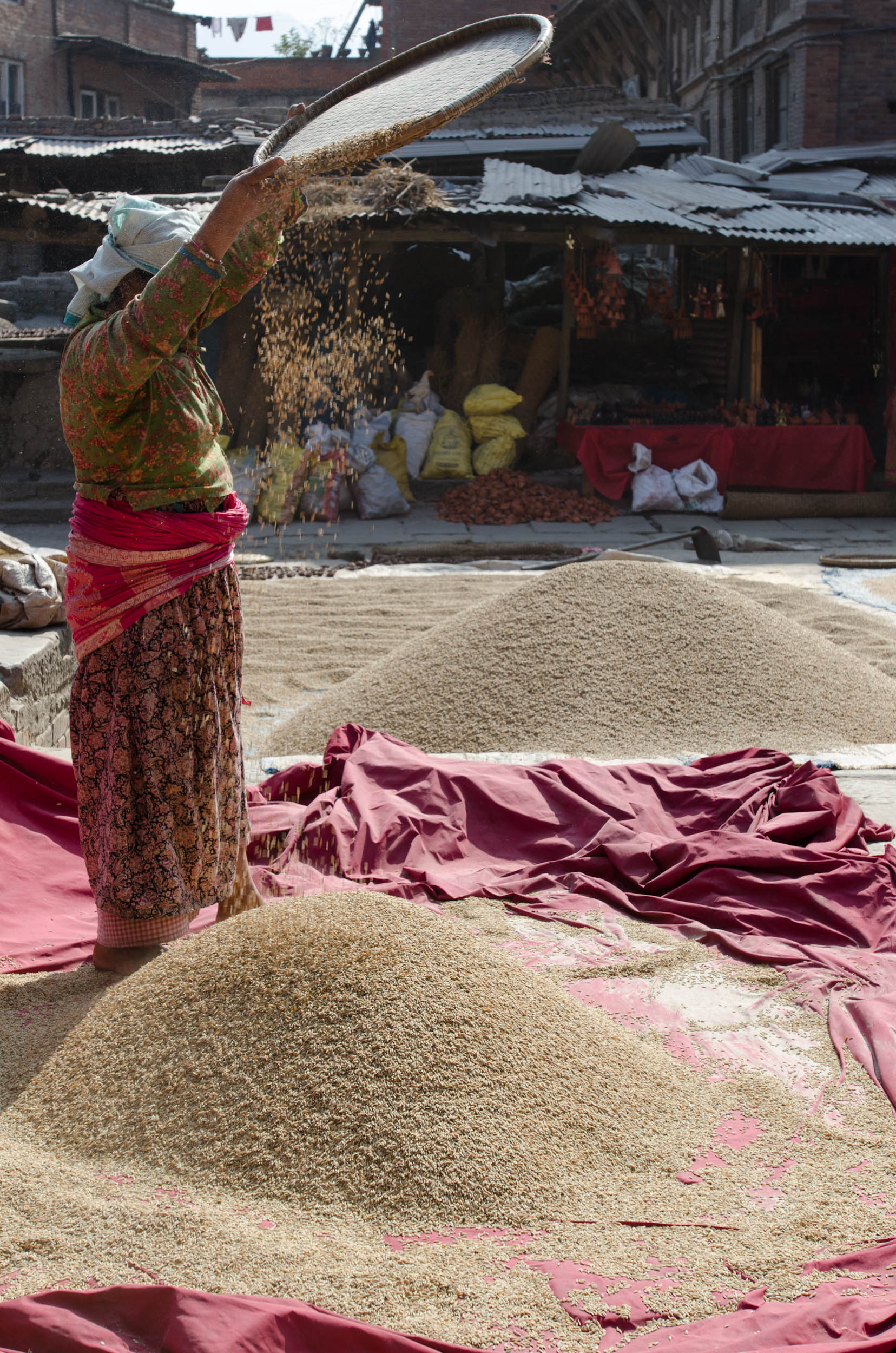 Bhaktapur sprung back to life in the morning and squares seemed more lively in the morning with the warm sun shining down than they were the previous afternoon. I can see how easy it is to adapt your daily schedule to the cycle of the sun. With the sun shining, there's no need for a scarf or even a jacket. One mistep in the shade however, and you might get a chill. I've started to bundle up and alternate walking or standing in the sun and then the shade. I inevitably need my scarf to cover my legs whenever we sit down to eat in the afternoon.
After sitting atop Durbar Square, we were greeted below by a group of school girls who asked for their picture taken. I obliged, and then we made one last loop through the city before finding a taxi to Nagarkot.
On our way out of the city, I stocked up on some Nepali and Masala tea. I'm generally a coffee kind of girl, but when in Nepal… I order the tea! (Lindsay, you would be so proud.) I've been alternating between the Nepali and Masala, unable to decide which one I like more. I was finally told the only difference is that the Masala is spicier! If I have to choose between the two, I'd say Nepali is my choice in the morning, and Masala is my choice in the afternoon. I've even graduated to ordering a large pot! Now I just have to get the directions on how to make it down!
When it comes to where we spend the night: We alternate between booking ahead of time and rolling into a city and walking around looking for a place. Usually hotels and guesthouses are in one area of town (backpacker districts if you will) and it's often not a huge deal to duck into a few to see a room before deciding where to stay. Sometimes though, the process of looking at different places gets frustrating. As was the case in Nagarkot. Lonely Planet suggested prices would be CHEAP. As in getting change back from a $5.00 bill for a room for a night! When we rolled into town, the first option was just that: Cheap. I thought we could get warmer blankets elsewhere, so we kept looking. Then we got the run-around at our second stop, and I was less than impressed with the third stop, but didn't feel like looking anymore. I was still not feeling well, and felt sorry for Andrew lugging both of our backpacks around (because sometimes he is too chivalrous for his own good). We got a room with a view. That's all there is to do in Nagarkot. Sip tea and look at the view. A view of a very hazy (nonexistent) sunset. I didn't mind, we were told there was internet, and I figured I could get caught up on the blog… Then the internet stopped working. 'Ohwell, I can still edit photos and videos' I thought… Then the electricity went out.